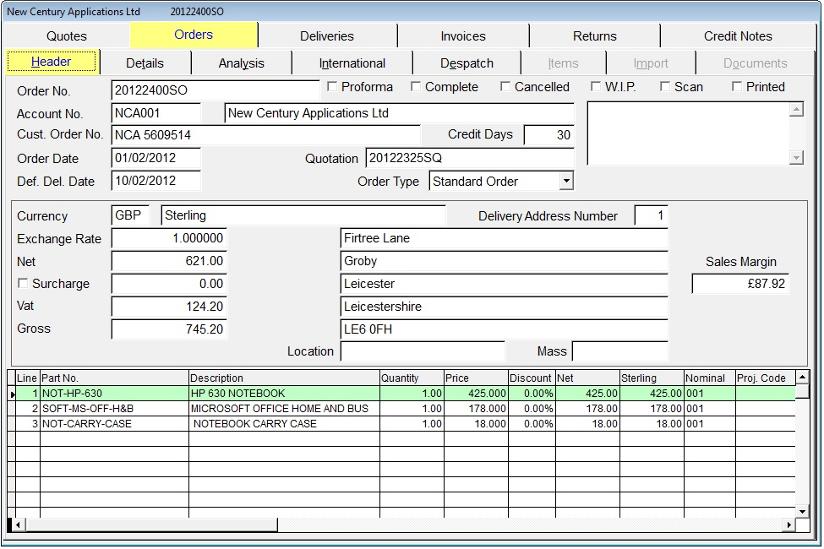 For almost 20 years we have been at the forefront of designing database systems and the development of user-friendly software to ensure data is securely captured and presented as meaningful management information at the touch of a button.
The scope of projects managed ranges from in-house printing of self-adhesive barcode labels, order processing and stock control software to full manufacturing systems and financial accounting software. Our strength comes from having completed many implementations in small and medium sized companies, throughout a broad range of industries, and understanding the issues and need to deliver a working solution on time and in budget.
The following multi-user modules can be implemented individually or as a seamless integrated system ensuring you only pay for the functionality you need.
SALES ORDER PROCESSING
Quotations with up to the minute pricing and gross margin
Creation of order acknowledgement, proforma invoice, delivery and advice notes
Automatically generates invoice to printer or by email
Automates and monitors scheduled deliveries, call off and back orders
Management reports including orders received and sales with gross margin
MULTI LOCATION STOCK CONTROL
History of movements and adjustments providing an up to the minute audit trail
Batch tracking and /or serial numbering
Fully barcode integrated, if required, to eliminate keying errors
Multiple Bins / Racks / Locations for organising the warehouse
Management reports including up to the minute stock valuation
PURCHASE ORDER PROCESSING
Purchase order authorisations and documentation to printer or by email
Automates and monitors scheduled deliveries, call off and back orders
Monitors for outstanding deliveries and invoices awaited
Prints stock label with barcode, if required.
Full history of purchases including by product, by supplier etc
MANUFACTURING
Master Production Schedule
Multi level Bill of Materials and Route card with Operations
·Works order documentation by Cell
Material Requirement Planning
Reporting includes Work In Progress, and productivity
LABEL PRINTING
Advice on Printers, Scanners and Handheld Devices
Label design options / software
Guidance on Printers and Label types – Thermal Transfer or Direct Thermal
Information on barcode symbologies and European Article Numbering
Integration with other databases
GENERAL LEDGER
Flexible codes plus cost centres, types and sub types for management reporting
Comprehensive journal facility including reversal of monthly prepayments / accruals
Monthly reporting including Profit & Loss and Balance Sheet
Management reporting with actuals versus budget with variances
PURCHASE LEDGER
Real Time integration with Purchase Order Processing, Cashbook and Journal
Produces a Suggested Payments List based upon supplier terms
Multi currency ledger with revaluation facility
Management Reporting including Aged Creditors, Commitments Summary etc.
CASHBOOK
Multiple Bank accounts, Credit Cards and Petty Cash
Receipts & Payments linked to Sales & Purchase Ledgers
Multi Currency Accounts and Revaluations.
Statement reconciliation
SALES LEDGER
Real Time integration with Sales Order Processing, Cashbook and Journal
Production of Customer Statements, Overdue Accounts for Debtor Letters
Multi currency ledger with revaluation facility
Management Reporting including Aged Debtors, Credit Rating etc
FIXED ASSETS
Assets registered against a category and / or location
Option to add extensions to assets
Flexible depreciation of assets e.g. Straight Line, Reducing Balance etc
Full reporting for Net Book Value and Depreciation to date etc